3 Night Fundraising Competition with Marco's Pizza
---
🍕 Pizza Night(s)! 🍕
Tues, 10/18 - Thurs, 10/20/2022
Marco's Pizza
 is hosting a 3 night fundraising competition for our school. Here's what you need to know:
🍕
Select Here to Order Now at Marco's Pizza
🍕 Select the FUNDRAISERS section prior to checkout
🍕 Select 
American Renaissance School
Elementary, Intermediate, or Middle
🍕 Select your child's homeroom teacher
🍕 Place order and ENJOY!
The top class from each school (K-3, 4-6, 7-8) will win a pizza party on behalf of Marco's!
The best part!? 20% of all online/app sales and 15% of all instore/phone sales will come back to the school!
Order pizza, salads, sandwiches and/or dessert for the family, office & friends!
Large Specialty Pizza, Large 1-Topping Pizza, CinnaSquares, & Cheezybread for $29.99. Use Code: PN8829 (Expires 10/30/2022)
Thank you for helping us raise funds to support our school! 🧡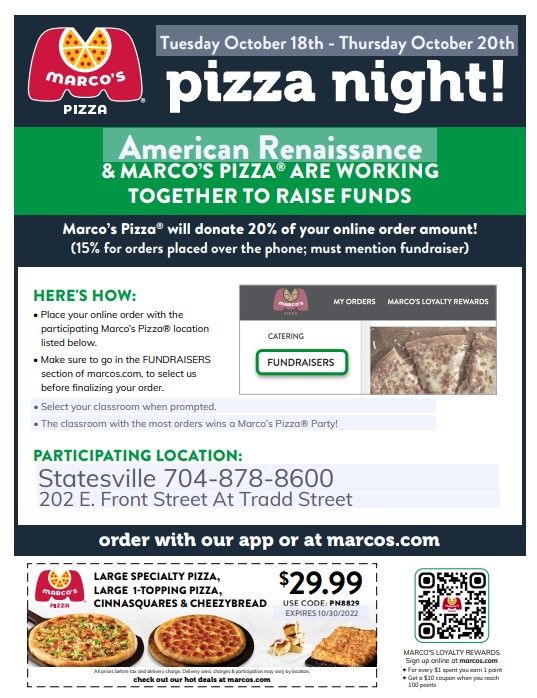 ---