American Renaissance School (ARS) – At the Heart of Community
---
Iredell County Animal Shelter
When American Renaissance Middle School Alum, Dara St. John, now with Iredell County Animal Shelter reached out to her alma mater for help writing bios for the dogs and cats awaiting, 8th grade English teacher Tracy Turner was ready to use this opportunity for her students to connect to the community.  "The shelter has very little time little time to spend doing these write ups." Said Mrs. Turner "Dara sends me pictures and information on each animal, and I give the information to interested students."  The students enjoy creating detailed bios to help these animals find a homes.  Time is of the essence, so the turnaround time for these bios is the next day.    
Help didn't stop there.  Not long after the bios started, 6-8th grade Art teacher, Savanna Wilkins, was contacted to have students draw a portrait of the dog or cat to help advertise them on the ICAS website. The art is donated to the shelter for them to display, and/or to send a copy of the portraits home with the pet when they get adopted. "I was thrilled to give my students this opportunity to give back to the community artistically, and to show them how you can use art to benefit others." Said Ms. Wilkins "It's amazing to see my students so invested in art knowing that they won't receive a grade for it. They are being so creative; some are even giving the pets a biographical write up and personality traits."
In conjunction with this partnership, the 8th grade has chosen to begin a collection of needed items for the shelter. 
Highland Canine Service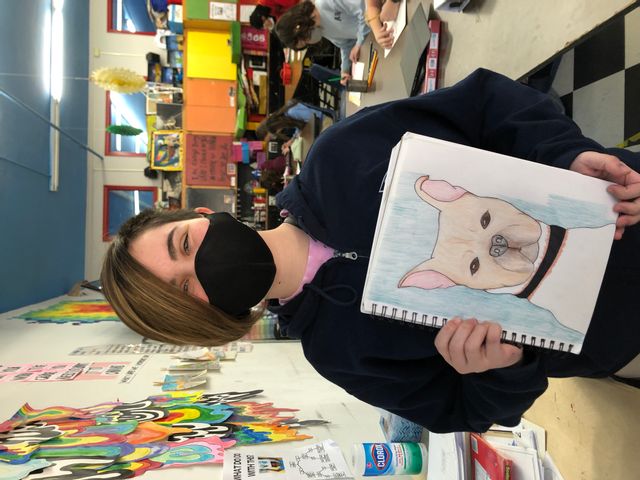 Located in Harmony, NC is a school for service dog trainers.  Highland Canine prides itself on providing real world experience for their trainers.  They also provide reliable and affordable service dogs for autism assistance, mobility, seizures, hearing and more.  
"Before the dogs at Highland Canine can provide autism assistance for children, they need to be socialized." Said Carlos Hernandez, Trainer – Service Dog Division "The opportunity to partner with schools like American Renaissance is a great way to do this."  
ARS Middle School Exceptional Children's teacher, Dana Dandurand learned of this opportunity and reached out to set up visits from 4-5 dogs who are in training as service dogs.  
Exceptional children and students with any loss in their family will have monthly time with the dogs. 
Exceptional children and students with any loss in their family will have monthly time with the dogs.  Other students can use tickets they earn for following ARS Core Values to 'pay for' time with he pups.  Teachers can recommend a student who may need additional attention to participate. 
"Our students are spending time reading to the dogs, as well as learning about the dogs and snuggling with them." Said Ms. Dandurand "I see kids that are super shy come to life with this experience.  Their eyes light up."
Carlos, along with student trainers and a rotation of dogs will be coming to ARS every other week for an hour.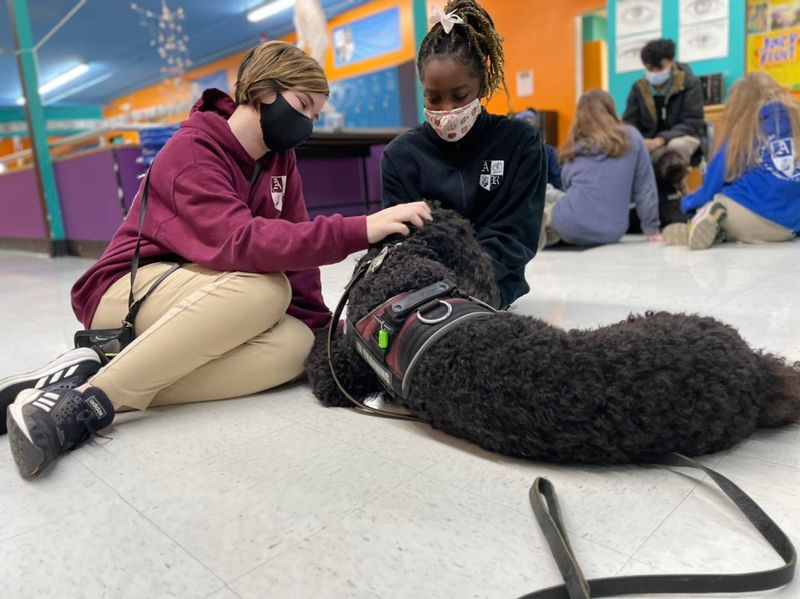 Click an image below to display the larger version.